It may seem odd to link African drumming to chess, but after numerous reinforcements of this connection in various circles I've encountered, I'd say there must be something going on there. I mean, the very image of box notation is like a chess board, with notes/pieces occupying various positions on the grid (
see sample with Kuku solos here
). The complexity of possible moves in chess - all subject to a few basic rules of movement - seems to appeal to those musicians steeped in the complex polyrhythmic interplay, within structure, of West African djembe, dunun and bell patterns.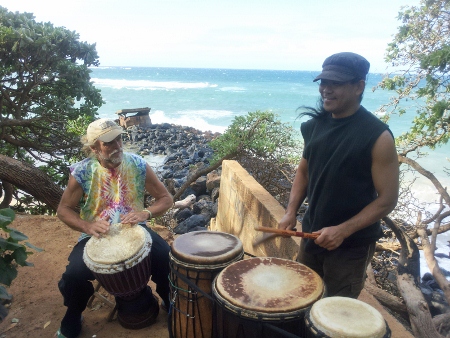 I first noticed this phenomenon in Guinea, where three or four of us out of a group of 18
studying with Famoudou Konate
were continually playing challenge chess matches with each other during breaks in the daily drum lessons. Three years later, at the Tambacounda drum camp in Mendocino, California, again I found students and even one of the African teachers (Abdoul Doumbia) were avid chess players. This year on my return to Maui, I reconnected with a former drumming acquaintance from the Northwest, and now before our weekly sessions (dedicated in part to playing material we both learned from Famoudou) we start the day with a chess match in a coffee shop.
Rick (left in photo above) suggested I could play between sessions on a free Android app. I checked it out (Chess Free by AI Factory, below), and like him, found myself between levels 4 (too easy) and 5 (too hard). So I looked further in the Samsung and Google app stores and downloaded a half dozen more options to try. The following is my assessment and review of these free chess programs... assuming of course, that you too like both African drumming and chess!
Free Chess for Android
Mobialia Chess * * * * *
Many options in settings, including scalable difficulty by ELO rating (500-2100, by 50-point increments) and engine move time. I haven't yet figured out the difference between the two engine settings - rating and time - but just won my first match with it, a hard-fought contest, with the settings at 1100 (my last rating at Yahoo online chess) and 3 sec.
Chess Free (Tojo) * * * * *
Lots of options and levels, clean interface, and tracks statistics.
Chess.com * * * * *
Has some great training tools (Tactics Trainer, online video lessons) to advance one's game at any level. Sharp, clean interface. A hint button giving advice if needed. The lowest level of difficulty (1 sec. computer thinking time) is challenging enough for me!
Chess Free (AI Factory) * * * *
Great design and interface, with play stats and scalable engine. I got frustrated between levels 4 and 5, with level 4 too easy (the computer too often surrendering its Queen) and 5 too hard.
Yahoo Games online chess * * *
This isn't an Android app but bears comparison, because I used to be addicted to this format following my trip to Guinea, and now much prefer the intelligent and controllable interface of the Android. The Yahoo interface has the advantage of giving you a live opponent (some of the Android apps offer this feature as well, with an online connection); but with several disadvantages:
*
Trouble starting a game
. Choose a table with someone sitting, and often they don't respond. Or it turns out to be a game in progress, which a previous player has abandoned.
*
Time pressure
. I find the competition of chess stimulating enough, without getting wired on the pressure of timed games on top of it.
*
All or nothing
. Once sitting at a live game, you have to see it through or abandon it when life intrudes. With the Android engine, you can play one or many moves as time allows, save and return to it at your convenience.
Chess Grandmasters * *
I found the right level - computer thinking time at 3 seconds - but the program frequently crashed, and after a few rounds started other weird behavior like not allowing castling.
Chess Live *
I couldn't get past the gauche, Commodore 64 quality board look, with the different, metallic-shiny pieces looking all the same.
Chess Free (Optime) *
Glossy pieces hard on the eyes, a little better than Chess Live. Scalable difficulty range, okay, but one big downfall - you can't save and resume a game, despite "resume" listed as an option.
A final note: there are numerous other options out there, both free chess apps and ones costing a few bucks (including upgraded versions of some of the above). For now, I've got my hands full with a few savvy digital opponents already... not to mention a bunch of drum rhythms waiting with their next challenge!